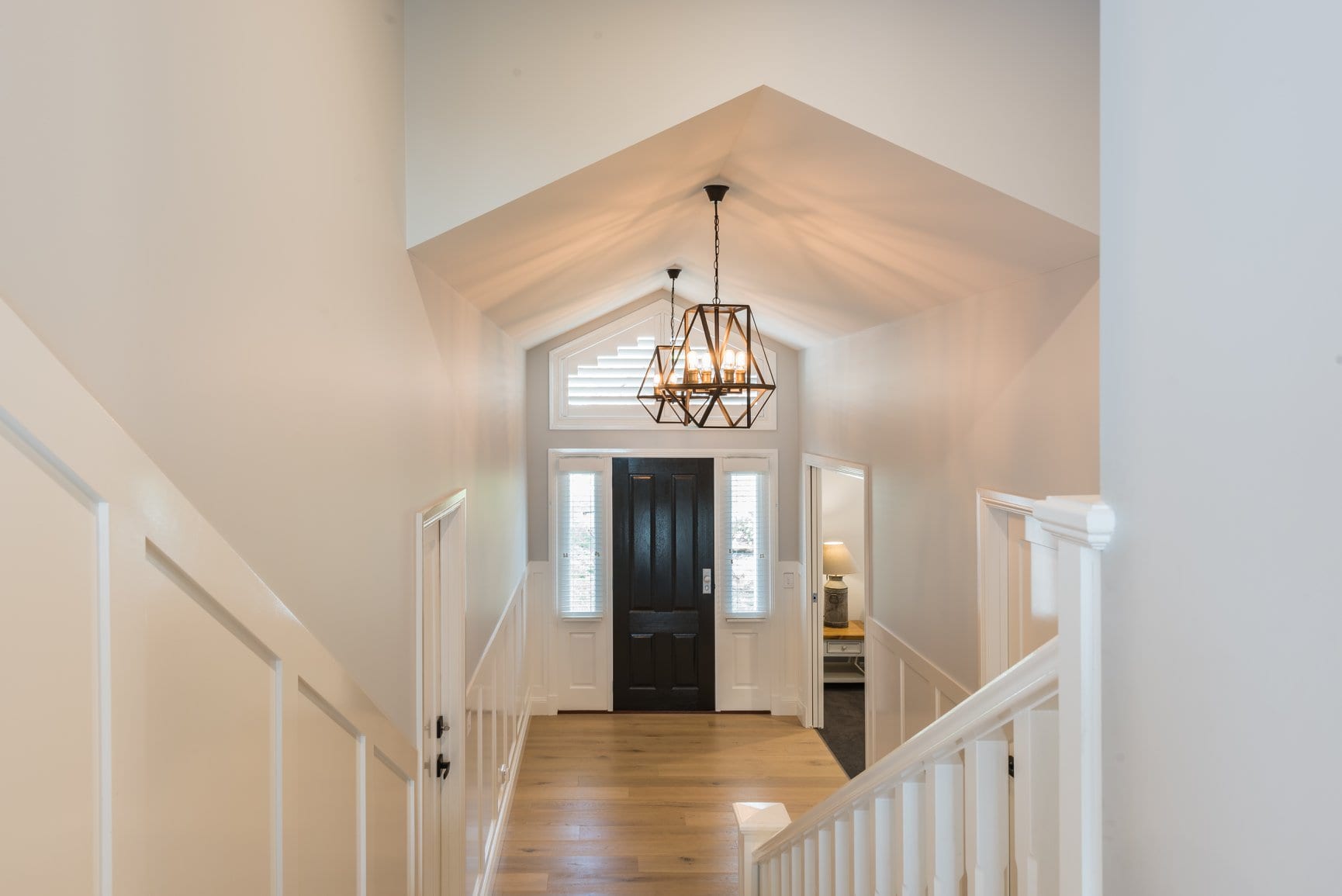 When it comes to selecting design elements for your new home, you may think the extent of it is colour schemes, tiles, carpet, and maybe a feature wall or two. But in actual fact there are so many elements of design that come into building a new home, and our team like to involve you as much as possible in creating them on paper, and then before your eyes.
That includes your ceilings! Not something you would have typically thought you'd need to weigh in on? The structure of a ceiling can change a room dramatically; having the capability to change how a space feels, looks, is lit, and even how it is perceived (bigger or smaller).
In this article, we'll talk you through the main types of ceilings we use throughout our new homes, so you can get a feel for the options available.
CONVENTIONAL CEILING:
A conventional ceiling will be just as it sounds; a standard, flat ceiling with no detail or spatial elements (slopes, etc.), making them not only the most used type of ceiling, but also the most cost-effective upper surface for a space.
RAKED OR CATHEDRAL-STYLE:
Just as the name would suggest, a Cathedral-style ceiling takes shape and inspiration from those in churches and Cathedrals. The design is symmetrical, and features two pitched, sloping sides that connect in the middle of the room; creating a high point that moves through the boundaries of a one-story home.
A cathedral-style ceiling is mostly used to take advantage of a large floor plan where there is space to be used up, but also works well in a smaller plan, taking advantage of height to make a space feel as though it is bigger than it really is.
VAULTED:
With steep, sloping sides that connect at an symmetrical point, a vaulted ceiling will often go against the pitch of the roof, making them an interesting design feature for your home, should you be veering more towards aesthetics than just simply practicality.
When combined with skylights, a vaulted ceiling will open a space up enormously – making the space feel larger, airier and grander.
EXPOSED BEAM:
Often combined with vaulted or raked (Cathedral-style) ceilings is the choice to expose the timber beams put in place for structural stability. Left uncovered and unpainted, these support beams add a rustic and traditional touch to a new home, adding to its warmth and appeal.
Often, 'faux' support beams are added to a raked or vaulted ceiling, simply to achieve a certain aesthetic in a space.
If you're interested about finding out more about building with an experienced and award-winning builder in the Wagga region, contact the PAH Construction team today for more information!